Cropping the Bottom of an Edge to Edge Quilt Design
Question:
I have too much design left at the bottom of my quilt. How do I crop off the bottom part of the design?
• Position the design correctly on the quilt, ready to quilt out the last row.
• Select Area tab.
• Press Clear if you still have the area in the workspace for the layout of the quilt.

Create a new area to crop off the bottom of the design.



NOTE: The Crop function is based on creating an area first, then cropping the design inside the area or cropping the design outside the area. In this tutorial, you will be cropping the design at the bottom that is too large for the final row of the quilt.
• Move the machine over to the left side of the quilt so that the crosshairs are outside of the design and at the level on the design that you would like cropped.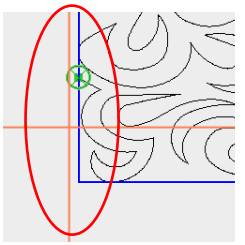 Move the machine to the right and below the area to crop.

Press 2 Corner.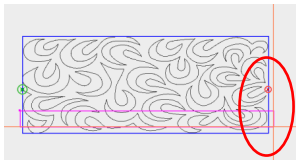 If there is still some design below the Purple Areabox then enter a larger number in the Area Height box so that the complete design at the bottom is encased in the Area box.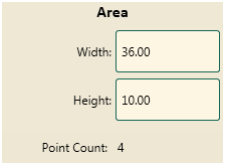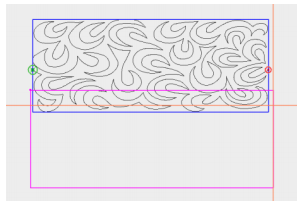 TIP: It doesn't matter how large the area is below the design, just make sure it encases the entire design at the bottom.
• Select Modify tab.
• Press Crop.
Press Inside.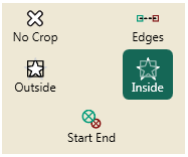 You need to decide if you want to have it stitch and tie off at each cropped line or if you want it to stitch a continuous line across the bottom.
Option 1:
Do not press Edges if you prefer to have the machine stop and tie off and then move to the next cropped start, tie on and continue.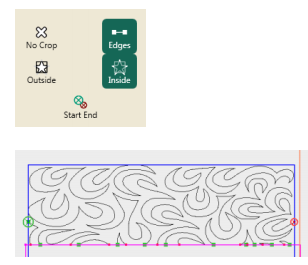 Option 2:
Press Edges if you want continuous stitching after each tie off. Each loose end created after Crop will be tied to the next end point by stitching along the border of the Area to get to the next point.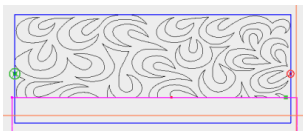 Notice the design is now a continuous line where the design was cropped.

The design is now ready to stitch out