If you are having trouble attaching the lights to your Handi Quilter HighLight, try these resolutions:
1. Using a metal clip, find the grooves in the light fixture with the most shallow clip extrusion, where the clip pops out the easiest. This would be where with the biggest difficulty would occur (If the corrected clips will stay in this section, they will stay in all areas of the fixture).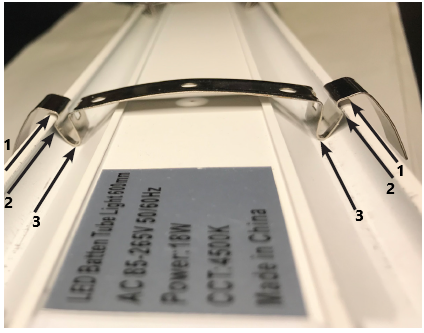 Note the three problems on both ends of the clip pictured above.
1. Large gap under the outside clip over the top of groove's outside edge.
2. Bend of clip not engaged under the lip of the groove's inside edge
3. Clip touching with interference in the bottom of the groove.
NOTE: These three things make the clip want to pop out of the grooves too easily allowing the light fixture to fall.
Try other metal clips to see if they pop out just as badly; this will ensure the clip is usable.

Once the worst part of the fixture is found, we are ready to correct the clips using that section.
Using quality needle nose pliers, reshape (bend) the clip in and upward unti it will snap under the outside edge of the grove and not pop out too easily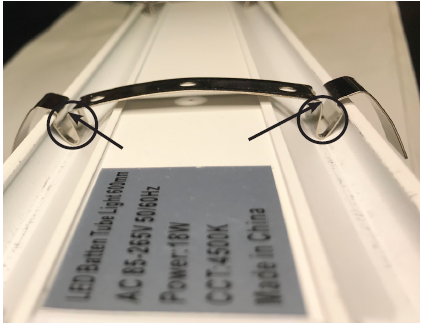 This is done on the clip outside the fixture. See the image of the before and after clip below